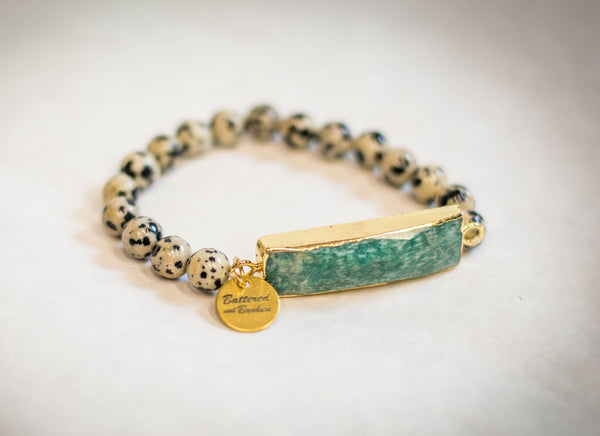 Saving Grace Collection: Bracelet- Natural Dalmatian Jasper Stone with Amazonite Bar Charm
---
---
---

Only God can take what others meant for evil and use it for good; teaching us that harmful and hurtful things can be used to produce a positive outcome. It is the tool He uses to save our soul, and the souls of others…our Saving Grace.

In celebration of that truth, we have a created collection called Saving Grace, which includes a bangle featuring scripture 'Genesis 50:20' on one side and 'Battered Not Broken' on the other, incorporated on beautifully selected jewelry pieces.  
Awareness can be beautiful and inspirational!
Awareness can be beautiful and inspirational!
Product  Details:
Material: Dalmatian Jasper and Amazonite
Amazonite is an extremely ancient gemstone that has been prized for its beauty and healing powers for many centuries.  Amazonite rock is empowering, facilitating self-discovery, self-awareness and the ability to embrace one's own integrity and truths. 
Amazonite properties are beneficial for people who are having trouble finding themselves and their spirituality. 
Spiritual healing in the areas of love and forgiveness are particularly supported with amazonite, as indicated by amazonite meaning. Working on letting go of anger, jealousy and resentment are made easier with the use of amazonite stone.
To find out more about this amazing stone, please visit:  http://thehealingchest.com/crystals-stones/amazonite-meaning/
Size: Around 18.5cm
This bracelet is expandable; one size fits most.
---
Share this Product
---
---
---