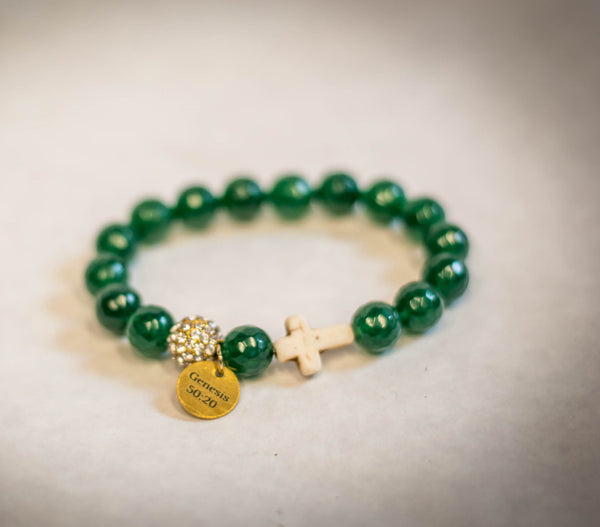 The Genesis 50:20 Collection: Transcendent Faith Natural Mala Stones with Pave Ball & Cross Meditation Bracelet
---
---
---

Part of our Genesis 50:20 Collection, the 'Transcendent Faith' Meditation Bracelet is more than just an accessory. Crafted with natural Jasper and Agate stones, this bracelet features a pave ball and cross, symbolizing the balance between earthly resilience and divine grace.
Mala beads, traditionally used for prayer and meditation, serve as a reminder of your spiritual intentions. This piece isn't just jewelry; it's a manifestation of the enduring strength and faith found in the transformative message of Genesis 50:20. Let each wear serve as a daily affirmation of your resilience and spiritual journey. This bracelet is a testament to the incredible power of turning obstacles into avenues of growth and spiritual deepening
Size: Approximately 18cm

    
Product  Details:
Material: Natural stones Jasper, Agate, Zinc, Alloy & Mala beads 
Size: Around 18cm
Bead Size: 10mm
This bracelet is expandable; one size fits most.
---
Share this Product
---
---
---